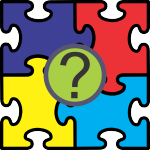 The ubiquitous symbol of autism, proudly and compassionately displayed by parents, caretakers and professionals, is the multi-colored jigsaw puzzle. It is an apt symbol from that point of view. Some of these people, though, as well as a much larger percentage of autistic individuals, believe the symbol objectifies a class of people. It associates them with an illness, in the same sense that a pink ribbon does so regarding breast cancer. Autism is, in some sense, and to varying degrees, a disability. Autism is much more than that, though. It is a difference—with challenges, delights and surprises as much as any other human variation, especially those involving the most complex object we know about in the universe: the human mind.
This new infographic makes clear to the world of humans that there is much more to autism than can be captured by a puzzling symbol.
…
…read the complete "New Infographic – Demystifying the Puzzle"